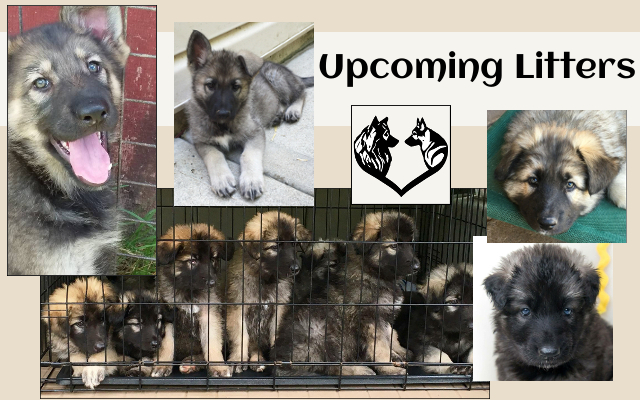 ISSA UPCOMING LITTERS
This is our combined list of all the upcoming and current litters from ISSA Breeders. Demand is strong, so please do check with the breeder regarding availability on a given litter! Often litters are sold before they are even born, so it's a good idea to get on a waiting list with the breeder you choose as soon as you can.
Before you put in an application, we encourage you to spend some time talking with our breeders to find one that you are comfortable with and that is producing the type and temperament of Shiloh Shepherd puppy you want.
Click on the links provided with each litter listing to go to the breeder's web site.
A Note on Health Testing
The ISSA has very stringent health testing requirements. For a complete list of the health and temperament testing we require upcoming breeding dogs to complete, please see our ISSA Mandated Health Testing page, here. For details about the health testing undergone by the parents of the litter you are interested in, please contact the breeder.
WINTER 2017-18
Echo Shilohs Presents: The Ellie/Leaguer Litter!
Located in Indiana, United States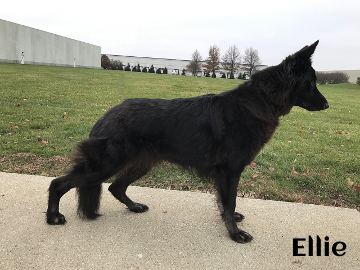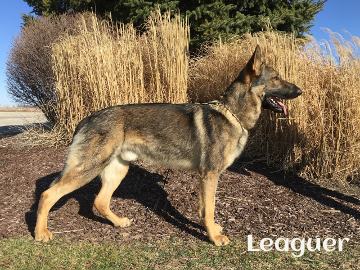 This litter is potentially planned for Winter 2017. I am expecting goofy, confident and happy go-lucky puppies. They should do well in the show ring, therapy work, or in any other canine games. These puppies should do well in almost any home, and keep their family entertained for hours.
This litter will be a combination of plush and smooth coats, all in varying shades of sable. All of the puppies will have the black recessive, so we could possibly have some bi-colors and very dark sable pups in the mix!
To contact us for more details or to fill out an application, please visit the Echo Shilohs web site, here!
Silvermoon Kennels Presents: The Willa::Iso/Kobuk Litter!
Located in Virginia, United States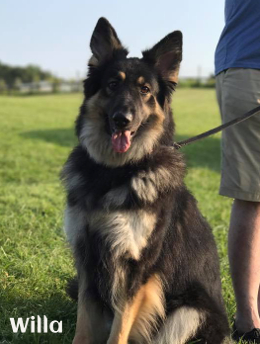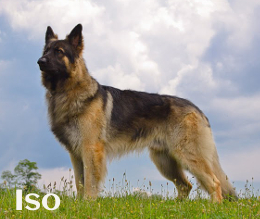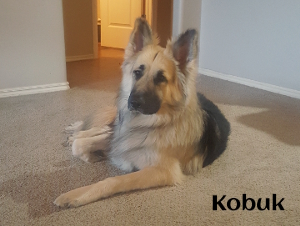 This litter is an important one for our gene pool, as it will be Willa's last. Willa comes from rarer lines and our diversity testing has shown us that Iso also possesses some rare genes, so this will be our try at saving these valuable genetics.
In addition we will utilize Kobuk, our choice for Willa's previous breeding, in an attempt to assure that we do get to see some Willa pups this fall!
This litter will be all plush, with sables in shades of grey, golden or brown. We expect some dual pups as well, possibly with Willa's striking darker coloring!
Willa is a girl who has a real zest for life! She likes to be out doing things with her people. Handsome Kobuk adds a dose of people-loving fun and easy trainability. Iso will give us that classic Shiloh nobility and laid-back temperament. This litter will be DNA tested for paternity and diversity at an early age to ensure that we have results in-hand in time for them all to go to their new homes! Speaking of which...we're looking for breeding/show homes for this litter, so if you're looking to give either of those a try with one of these pups, please let us know!
To contact us for more details or to fill out an application, please visit the Silvermoon web site, here!
Jewel Shilohs Presents: The Tika/Dexter Litter!
Located in The Netherlands, Europe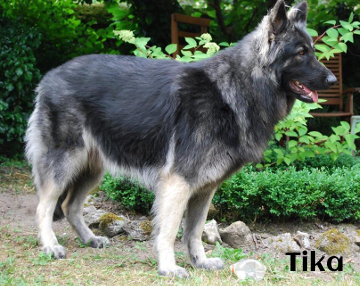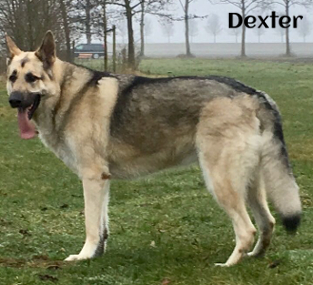 This litter has been delayed, and may be tried again this coming winter.
Tika is a black and silver plush lady, and Dexter is a light brown smooth gentleman, so this will be a plush and smooth litter, and both coats are possible. We expect sable and dual pups, both light and dark, in colors of silver, grey, and light brown.
With this litter I hope to produce healthy dogs like Tika and Dexter are, with good or excellent hips. They are both huge dogs, so we expect their offspring will be very large too! Both dam and sire have good bone, and a solid top line. Dexter and Tika are both easy-to-handle dogs, so we hope that the pups will also inherit their parents' temperament.
To contact us or to apply for this litter, please visit us at our Jewel Shilohs web site!
SPRING 2018
Willow Rock Shilohs Presents: The Elvira/Django Litter!
Located in Oklahoma, United States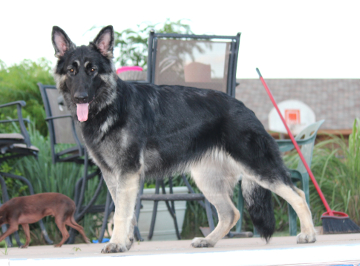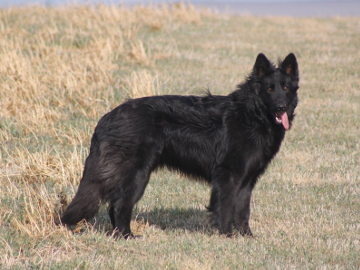 Elvira and Django's breeding did not take so we are putting this litter off until the spring. We're very excited to see these pups, and are expecting a good mixture of Shilohs with Elvira's sweet temperament and Django's sense of adventure! Django is a very large boy, already over 30" and 100 pounds at not even two years of age. Elvira is a big, solid girl and her sire Piston was huge, so there should be some monster pups in this litter!
The Elvira/Django litter will be all plush, duals, dark duals and bi-colors. All of the puppies will have the black recessive, so we could have some very dark pups in the mix!
To contact us for more details or to fill out an application, please visit our Willow Rock Facebook page, here! You can also drop Kyle an email directly at jwilliams1278@gmail.com.
Guardian Kennels Presents: The Indy/Axel Litter!
Located in Alberta, Canada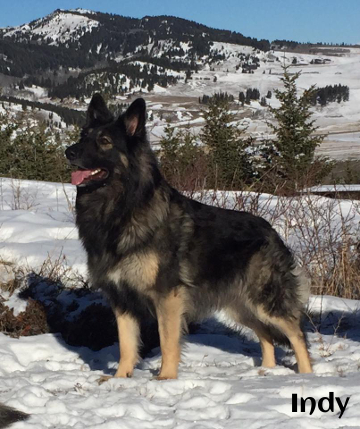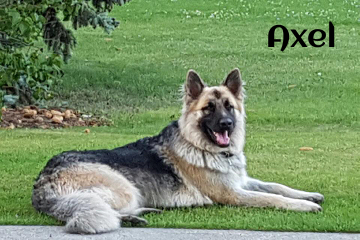 This litter has been delayed to spring/summer 2018. Keep checking back!
All I can say about the pups from this pairing is that they are going to have character!  If anyone has followed Miss Indiana through the Timbaland Shilohs page, you know what a great sense of humour this girl has.  Along with her stunning beauty, she has that glint of mischief in her eye and a genuine love for the world. 
Axel's incredibly easy going temperament will just add to this confidence and zest for life.  We are expecting all plush pups in various shades of sable with the possibility of some duals.  After seeing the pups from our current litter (out of Indy's dam) with Axel, we are really looking forward to seeing what he will produce with Indy.  These pups will be whelped and raised at Timbaland Shilohs in the Crowsnest Pass, Alberta.
To contact us for more details or to reserve a spot on this litter, visit the Guardian web site, here!
UPCOMING LITTERS FOR FALL/WINTER 2017
Details and litters may change as time passes. Litters which are locked in will be posted in our more detailed format, above, as they are finalized and confirmed.
WILLA/Stud TBA : Silvermoon Shilohs, Virginia, United States
LAKOTA/Stud TBA : Riverwind Shilohs, Oklahoma, United States
BRIO/Stud TBA: Shahayla Shilohs, British Columbia, Canada
KARSA/Stud TBA: Kingdom Shilohs, Texas, United States
NOVA/Stud TBA: Supernova Shilohs and Willow Rock Shilohs, Oklahoma, United States
CHASSIS/Stud TBA: Victory Shilohs, Ontario, Canada
FEYLIN/BOEKE: Dutch Pride Shilohs, The Netherlands, Europe



Thanks for checking in! If you have questions about Shiloh pups or any of these litters, you can join our friendly Shiloh Shepherd Community Facebook group, where many of these breeders will be happy to talk about their litters or raising Shiloh Shepherd puppies in general. Thank you for reading--keep checking back!