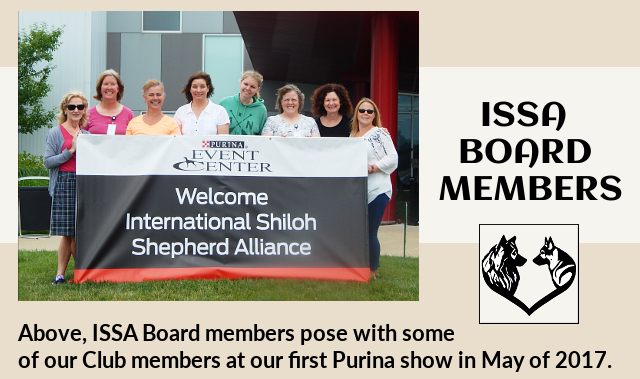 ISSA Board Members
Following is a list of the Board Members of the International Shiloh Shepherd Alliance. This listing is accurate as of July of 2017.
PRESIDENT: VANESSA DUTTON
Vanessa is our most experienced breeder, with over 17 years of experience in Shilohs. She heads up Guardian Kennels in Alberta, Canada. Currently she is owned by four Shilohs: Gillian, Jetta, Django, and the newest addition, Eleiko. She serves as an LER evaluator for our litters, and as President she runs our monthly Board meetings and perodically presents updates on our progress and programs to the membership.
VICE PRESIDENT: MAYA JEROME
Maya bred Belgian Tervurens before she entered the world of Shilohs in 2007, giving her ten years in the breed. Her kennel name is Silvermoon and she lives in Virginia, United States, with her Shiloh girls Leah and Willa. In addition to assisting any other Board members as needed and serving as an LER evaluator, Maya is our Show and Events Coordinator.
SECRETARY: ANNE BECKER
Anne and her husband Zak purchased their first Shiloh, Leo, in 2007. Anne runs Sparta Shilohs, based out of Texas in the United States. They have added three more Shilohs after Leo: Kyrie, Thorn, and their youngest, Blazie. Anne is a puppy Litter Evaluator and an avid student of canine genetics, and she actively tracks the genetic health statistics in our breed.
TREASURER: SHANI GADWAW
Shani and her husband Mike got into Shilohs with their boy Iso and girl Shawnee, and are avid show-goers and ISSA supporters. Their kennel name is Sentinel Shilohs, and they are located in south central Pennsylvania, United States. Shani handles the Club finances, and also does the puppy testing at many of our Litter Evaluations, especially on the east coast.
INTERNATIONAL ADVISOR: ZWANET BOER
Zwanet heads up our Dutch Shiloh Shepherd community and sister Club, and has helped to coordinate events for people interested in Shilohs all across Europe! Her kennel name is Dutch Pride Shilohs, and her dogs are Shima, Zanthe, and Feylin. She has been extremely important (and helpful) in developing ISSA's outcross program.
MEMBER COORDINATOR: BRIDGIT AMSTRUP
Bridgit is newer than some of us, but she makes up for it with her energy and enthusiasm! A great help in the day to day running of the club, she has worked especially hard on setting up our non-profit. She also loves to travel to help out as a tester at puppy evaluations! Bridgit lives in Oklahoma, USA, and is owned by two Shilohs, Kobuk and Nova.
REGISTRY LIAISON: ANITA RADOS
Anita was key in ISSA's development, being one of the founding members of our non-profit. In addition she has been a great help on our latest endeavor, a health survey coordinated with all the ISSA breeders. Her kennel name is Shahayla Shilohs and she and her family live in British Columbia, Canada, with their dogs Mazi, Porsche, Brio, Cypress, Bo and Teshko.
ISSA BREED WARDENS:
VANESSA DUTTON, MAYA JEROME, AND ANNE BECKER
The three Breed Wardens of ISSA receive and approve all prospective breeding matches in our registry. No ISSA breeding goes forward without their double-check of the pros, cons, and potential risks. They monitor the health of our breed, from genetic diversity to the incidence of genetic disorders, and spearhead breed health initiatives such as the ISSA Holter program and breed-wide health surveys. They are key in tracking the lines in our breed, to make sure we keep as many diverse dogs and genes in use as possible.