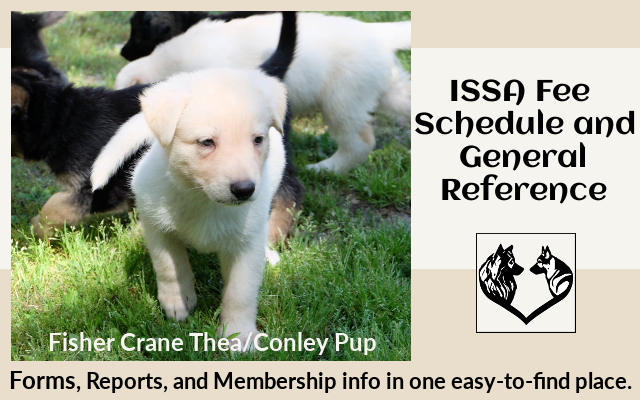 ISSA Fee Schedule and Reference
As a courtesy to our community, ISSA would like to provide this easy-to-access source for some basic organization facts, what our services and reports cost, and where to go for them. We understand that the starting page is very simple; as our organization develops over this first interim year, we'll be expanding the information. Thank you for your patience!
ISSA FREE TRIAL MEMBERSHIP:
If you purchase a puppy and are not a current member of ISSA, you'll receive a free trial membership of a length based on when you got your pup. If you get your pup from January through August, your membership will run until the end of the year; if your pup is purchased after September 1st then your membership will expire at the end of the following year. The trial membership allows all normal membership benefits except for voting rights.
At any time, you can upgrade to a standard membership by filling out the application and submitting payment. On the membership application, simply put your breeder as your reference.
You can find the application to join ISSA as a full member here, on this page.
ISSA MEMBERSHIPS:
If you don't have a trial membership, or have a trial and wish to upgrade to full, here are the types of membership available and the link to the application.
One-year single person: $25
Three-year single person: $60
One-year household (two people living under the same roof): $40
Three-year household (two people living under the same roof): $100
You can find the application to join ISSA here, on this page.
If you need to contact someone about your application or with payment questions, you can go to our Contact page, here, to find the appropriate person and email.

GENERAL FORMS AND CERTIFICATES
Updated or replacement physical (paper) copy of a registration certificate: $10
Transfer of Ownership form filing: $15
BREEDER STATUS, REGISTRATIONS, REPORTS AND CERTIFICATES
Kennel Name License (good for three years): $100
RC/COI report: $25 (includes COI with color-coded ancestor analysis, color-coded line-breeding pedigree, and disease risk analysis)
IF the Breeder is utilizing BetterBred to determine compatibility, this report is only $15.
Litter Registration: $25 flat fee, must be done between two weeks and ten weeks of age.
Initial ISSA Individual Dog Registration: $25 per dog/puppy, paid by the breeder when the new owner's information and the pup's registered name is known.
Registered names must be 35 characters or less in length, including spaces. The only punctuation marks permitted are dashes and apostrophes. The breeder's kennel name or an acceptable abbreviation thereof (for example, DPS in place of Dutch Pride Shilohs) must appear at the beginning or end of the registered name.
After the dog is registered, the Dog Update form should be filled out to register appropriate information such as health testing results, CGC or other titles, height, weight, and physical specifics about the dog. This information can be filled in by either the owner or the breeder.
NOTE: A dog must apply for a Breeding Certificate in order to breed within ISSA, but there is no charge for the certificate itself.
PROCEDURE FOR SUBMITTING A BREEDING PROPOSAL
Study the pedigrees and ask questions to make sure you have a thorough understanding of the traits the dogs are likely to produce, both positive and negative.
Contact Anne Becker (vaitalla@yahoo.com) to have a ballpark COI run for free if you are not sure the dogs will work together. COI gives you an estimate of how related the dogs are. We will not approve a COI that is too high.
Contact the owner of the stud to see if they are willing to be part of the match.
Both dogs need to have all health and temperament testing completed to qualify for their Breeding Certificates.
Send $25 to the ISSA PayPal at shilohalliance@gmail.com. In the notes put the names of the dogs being bred and that you are ordering an official COI report. Email Anne at vaitalla@yahoo.com to let her know that you have paid. She will run your 30-generation COI and send it with a color-coded ancestor analysis, a color-coded pedigree, and a detailed genetic disease risk analysis drawing on the dogs in the generations behind yours and their close relatives.
If everything looks good, it's time to fill out your proposal! Communicating with the stud owner, and the breeders of the stud and dam, fill out the breeding proposal form, which can be found in the Files section on our ISSA Breeders' Facebook page. Be sure to fill in all health testing results, and answer all of the questions about what you hope to see, what makes these dogs work well together and what could go wrong! Demonstrate your knowledge of what you are breeding, and what you are breeding for.
Email your COI report, Breeding Proposal, photos of the dogs (or a link to them) and copies of the health testing certificates to the three Breed Wardens: Vanessa Dutton, Maya Jerome and Anne Becker.
PLEASE submit your proposal at least a month before your girl is due to go into heat. No one likes having to rush things at the last minute!



Thank you and if you have any more questions, do contact our Breed Wardens!

More reference materials will be added as ISSA develops more resources for our breeders and members.